Jacksonville Generator Maintenance
Keeping Your Generator in Excellent Condition in Jacksonville & the Surrounding Areas
Beaches Electrical Service Inc. is an authorized dealer for both Generac and Briggs & Stratton standby generators. Our experienced electricians not only install these highly effective systems but also maintain them. When you require generator maintenance in Jacksonville, we're the team to trust for quality results. Our services will keep your generator operating at peak performance, ensuring it's ready to provide your property with electricity in the event of a power outage.
---
Contact our skilled electricians online or at (904) 692-7792 for reliable generator maintenance and superior customer service in the Jacksonville area!
How to Care for Your Generator
Once you've installed a quality generator at your home or business, you might be inclined to think that's all that's required. After all, you've researched and found the perfect backup generator for your needs and budget, and had a licensed electrician install it correctly for you – what more could you need? The answer is a preventative maintenance program that will ensure your system is ready to run smoothly and effectively during the next power outage.
Caring for your generator is just as important as installing it. Your generator maintenance plan should involve several elements. First, it's important to exercise your generator once a week. This would include running the system on load (at full capacity) for 15 to 20 minutes and looking for any warning signs that something is wrong. Second, you should check the oil and coolant levels once a month. Finally, you will want to schedule a maintenance appointment with a professional every 6 to 12 months.
During your maintenance appointment, your technician may perform several tasks, including:
Changing oil and filters
Lubricating the system's components
Fuel cleaning and filtering to prevent clogged fuel lines and filters
Checking coolant levels to maintain the cooling system
Checking that the battery has the power to prevent any start-up hitches
Checking the exhaust system and engine electrical system
Evaluating fuel system and air intake system
Testing engine functions and alternator outputs
---
Contact us online or by calling (904) 692-7792 and schedule your next Jacksonville generator maintenance service today!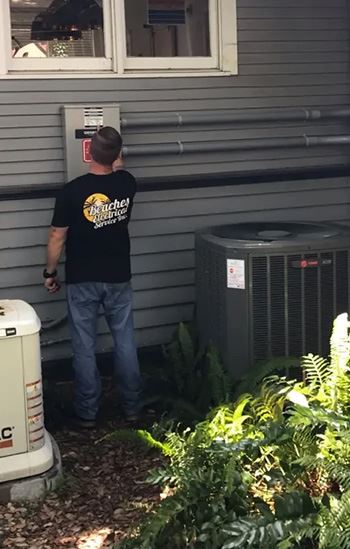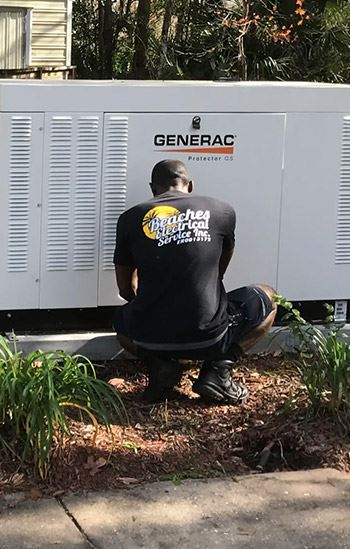 Additional Generator Maintenance Tasks
There are a few other maintenance tasks you may need to perform to ensure that your generator is ready to use when you need it. Because a generator needs plenty of air to work properly, you'll want to make sure all leaves, vines, and other foliage are cleared away from your unit. If your system is enclosed, you should routinely check that no rodents have taken up residence inside. Both small critters and foliage can prevent the engine from functioning properly.
You should always perform a visual inspection of your system after a power outage, refilling the oil and coolant when necessary. Also, check the air intake and exhaust systems for any issues and make sure the battery and charger are functional and properly connected. Finally, ensure the starting battery doesn't have any corrosion and is ready to go for the next outage.
Call Beaches Electrical Service Inc. at (904) 692-7792 or reach out online for reliable generator maintenance in Jacksonville! Our knowledgeable technicians will get the job done right.
"Everything was done professionally according to the estimate given upfront."

Welsey W.